WANTED Police are appealing for public assistance to locate Christopher LITTLE …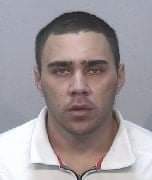 WANTED
Police are appealing for public assistance to locate Christopher LITTLE who is wanted on an outstanding warrant relating to domestic violence offences.
LITTLE aged 41, is known to reside in Narrandera
NSW and known to frequent the Wagga Wagga area.
Anyone with information on LITTLE'S whereabouts is urged to contact Griffith Police Station on (02) 6969 4299 or Crimestoppers on 1800 333 000 and quote police reference W4340103.
Information is treated in strict confidence.
The public is reminded not to report information via Police social media pages.